I'm by no means an expert when it comes to home decorating, but after years of writing marketing copy for vacation homes and primary homes, you begin to notice that the main difference (in most cases) between the two is location. It's the neighborhood that really sets them apart. Interestingly, interior features seem to parallel each other.
For instance, a decade or so ago,  it was trendy cabinetry, jacuzzi tubs, and a master suite that typified the highly prized items in a home or vacation home. Typically, most walls were white, there was generally a gas or wood fireplace, and a deck or patio. Homes and condos were moderately sized.
Now, stainless appliances, granite counters, hardwood floors, a hot tub room, and trendy colored walls are all the rage. And the homes/vacation homes are huge. This has been the standard  setup for about 10 years now. Stainless appliances are much more expensive, and it makes you wonder what made these so popular. Was it because they were used in the homes of the wealthy, where professional cooks were often employed for parties, get-togethers, or even on a regular basis? Do we really need a 6-burner Viking stove to cook our meals? And, are they on their way out with a new economy model based on frugality?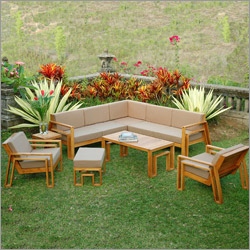 Granite counters, though appealing and useful, are very expensive, and somewhat out of kilter with the new economy. Hardwood floors have also been viewed as a huge plus. But at one time, most of these were carpeted over because they were difficult to maintain, scratched easily, were targets for shoe scuffs, and weren't comfortable to walk or sit on for any length of time. Colors over the last few decades have trended from pastels to solid white, to bold colors.
All of this has to make you wonder: When will everything you treasure now suddenly seem as dated as shag carpeting or vinyl covered cabinets? And, most of all, what are the next trends likely to be? It seems many are related to outdoor living space. That's a huge expansion area. They're even coming out with outdoor sectional furniture and appliances. But what's the inside of your home going to look like in the next few years? It seems as though we're on the cusp of major changes, doesn't it?